5 Clothing Pieces That Will Help You Transition Between Seasons
Picture this: You are waking up to a cool spring morning and throw on a cute, heavy sweater, jeans, and high leather boots. Later on, the sun begins to rise high in the sky as the temperature quickly heats up, and you are left panting from the exhaustion of the hot temperatures and your effort to look stylish.
We've all been there, and most can say that dressing for ever-changing weather on the brink of changing seasons is definitely not too thrilling!
One of the greatest fashion struggles for high school and college students is dressing "in style" while also dressing appropriately for the weather, which is just as important.
However, it doesn't have to be as difficult as you may think!
Yes, really.
There are five interchangeable clothing pieces that can be suited for any kind of weather at any given time. Whether it's winter changing to spring or summer to fall, no longer will you have to wake up early and debate on whether to look stylish or feel comfortable. We have the secrets and clothing recommendations that allow you to rock both!
1. Trench Coats/ Petty Coats
Cute, classy, and comfortable! And did we also mention they work with just about every season transitioning time?
"When running out the door in the morning, trench coats are good to throw on and keep you warm to and from class," says Rachel Harper, a sophomore studying fashion merchandising at Kent State University. "They are something you can play up when you wear nice clothes, especially if you know it's going to be cold in the morning and get warmer later on. Definitely wear a trench coat because you can hold it on your arm if it gets too hot and it's also light enough!"
Trench coats and petty coats will simultaneously keep you just warm enough and just cool enough while also looking super in-style and affordable.
Not only are they perfect for a fancy dinner date, but they can also be worn unbuttoned and around the waist for a casual walk to and from classes, no matter the warm-to-cool temperatures.
2. Boyfriend Jeans
Now, speaking of pants, there is nothing more comfortable, interchangeable, and even loyal than the Boyfriend Jeans.
"When it's warmer weather transitioning to cold, I would definitely wear a pair of boyfriend jeans," Rachel says. "That way, in the morning when it's warmer, they will be heavy enough to keep you warm but also comfortable enough and airy to keep you from experiencing the cold."
Have problems matching? These jeans are perfect to pair with any shirt color, but also provide the materials needed to feel warm and secure.
I guess you can say that that's one kind of boyfriend that's not going to break your heart any time soon!
 Cardigans are the go-to clothing piece that will easily go with any look and will never let you down.
Perfect for transitioning to fall and spring, this sweater-jacket, lightweight piece is prone to working with you in whatever weather and fashion drive comes your way.
"During the transitioning of the colder months, you definitely want to take into consideration the type of clothing you wear, and I wouldn't wear anything that's suede," Rachel says, "so I wouldn't think about it too much, and cardigans are perfect because they are easy to wear and can really go with any season."
Cardigans= Convenience. They should definitely be a new fashion trend!
4. Blanket Scarves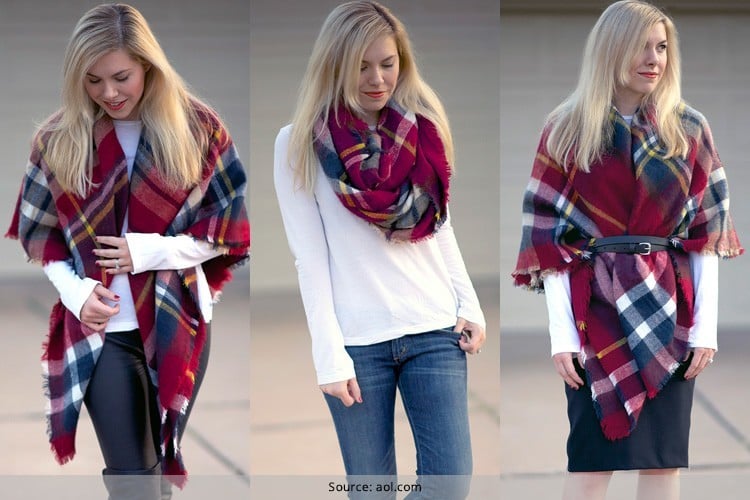 As a cover-up, as a regular scarf, or even as a shirt, these scarves are ready to take on any challenge throughout the day.
"As a student, I wouldn't say you have to spend more than ten minutes getting ready in the morning," says Rachel. "Blanket scarves are going to be a perfect solution; they are both versatile and comfortable."
Don't be afraid to try new things with this easy piece!
Note: These scarves can be worn so many different, adaptable ways, it's almost surreal.
5. Jean Jackets
Jean jackets add a new, zesty feel to brighten any changing of season.
Whether it's to indicate a light, spring vibe or to give onlookers thought to the colder weather coming with fall, these jackets can do it all.
Play them up for a sexy emphasis, or wear them down when trying to keep casual and adjusted for the weather. You are guaranteed to have fashion and comfort unite in exactly the right way.
Rachel talks about the best places to buy all of the interchangeable garments recommended: "For all of the clothing suggestions, I would say Forever 21 or a Zara, because most of the garments you wear around transition seasons are going be things that last a year. Plus, you can get new items cheap and affordable."
During these complicated transitioning seasons, you always want to remember to dress comfortably above all else.
"My advice overall is always wear something that you're going to be comfortable and feel good in, because if you don't, you are going to be fidgeting and not paying attention to the most important things, which is school," Rachel says. "Don't overthink it, and definitely think about where you will be going everyday.  Like, in high school you are going to be inside all day, but in college walking from building to building, you definitely want to be dressed dynamic — nothing too thin and clothes that make you feel confident."
In the end, it's all about feeling comfortable for the weather and confident in your choice of style. With the use of interchangeable and affordable pieces like petty coats, boyfriend jeans, cardigans, blanket scarves, and jean jackets, you will be sure to be fully equipped for whatever weather comes your way!